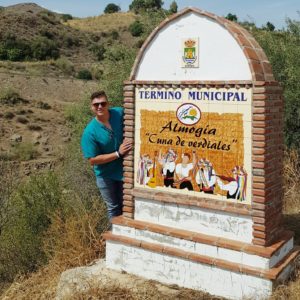 Geographic Description:  Almogía is located in the interior of the province Málaga, 25km from Málaga capital with a population of 3770 inhabitants. The town is situated in the Guadalhorce Valley close to the Montes de Málaga.
Where to park en Almogía?: Once close and entering the village we observe that there are not many parking lots, before we entered the village we saw some parking slots, but we got inside the town with the car through the narrow and sloping streets. We found a parking place on a hill, although I highly recommend parking on the outskirts of the village.
Personal Description: Leaving from Malaga we head towards Almogía on the MA-3402, it's a two-way secondary road with very beautiful views during our climb of up to the Guadalhorce Valley, among them you will see the swamp next to the Casaola Dam. The road is frequented by cyclists, therefore, caution must be taken in low vision curves to avoid accidents. Approaching our destination the town appears on your left with a front view where there is a balcony-outlook with a dome and benches to sit that becomes a perfect place to snack, rest or take some photos.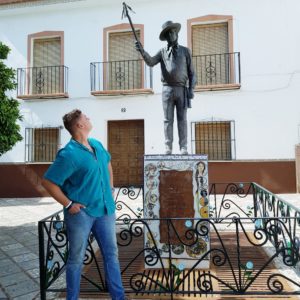 We go to the center of the town, we see immediately that it is a very picturesque quiet town, the narrow streets very well taking care of by the neighbors, the houses are decorated with hundreds pot of plants and colorful flowers. Going downtown we see a charming small square with a statue in honor of the verdiales, we discover that Almogía is of great importance within the world of verdiales, which is a folklore of a very old musical tradition that can only be seen in this region of Malaga.
Arriving at the town hall square we appreciate a dozen gentlemen sitting in the square chatting quietly in a circle of everyday issues, which still reflects the cozy neighborhood of the Villages in Malaga. We entered the Cafe Bar Central in the main square, a shame that we entered when the kitchen is closed, we tried some tapas of the showcase, and we ate some steaks with a sauce that left us wanting to try more dishes of this Bar.
Then we went in search of the "Torre de la Vela" ("Candle Tower") ruin of the old castle of Almogía, climbing up to the tower, the monument itself, is simply a reminder of a great past of this town. The climb to the Tower is worth it since there you have very nice views to take a rest under an olive tree and have a picnic with views.
On our way back to our car we have a little stop to have a drink at Casa Meño, a very cozy bar-restaurant decorated with many attributes of Málaga football club and English clubs, the owner is very friendly, do not forget to stop for a drink.
Curiosities: Almogía is one of the most important villages when it comes to Verdiales folklore.
Etymology: Possibly it origins from Andalusian Arabic and Hispanic romance word Al-Mexia, there is no exactness of the origin of the name, but there are two theories:
Derivation of the name of a Berber tribe named Al-Mexi 

A linguistic translation of the term "The beautiful"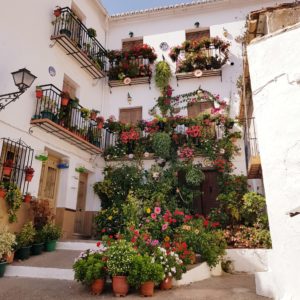 History: 
Monuments and Tourist Attractions: 
Iglesia del

siglo XVI

Nuestra Señora de la Asunción: Situada en la calle de la iglesia, construida sobre una antigua mezquita en el siglo XVI (1552) por el arquitecto Diego de Vergara. La iglesia fue reconstruida en 1891 después de un terremoto. 

Ermita del Sagrado Corazón de Jesús del

siglo XVII

.

Ermita de las Tres Cruces del siglo XVII-XVIII, restaurada hace algunos años, donde se celebra la fiesta de Verdiales de primeros de mayo.

Lavadero La Nora: Construido en el siglo XIX que

consta de unos treinta lebrillos de barro con las piedras de lavar situados alrededor de una alberca.
Gastronomy: 
– Chanfaina
– Gazpachuelo
– Espárragos Trigueros
– Ajoblanco
– Porras Blancas
Festivities: 
Día de la almendra: Day of the Almond, every last Sunday of September there is a festive dedicated to the great almond tradition in Andalusia (Spain is the third largest producer in the world). This local festival celebrates and shows the great tradition of growing this dried fruit, the local bars and restaurants serve enriched dishes such as chicken, meatballs or snails in almond sauce. The festivities are also held at the main square with tastings of local dishes and decorated with market stalls that offer local and traditional products. The festivities are accompanied by verdial chant folk music of the local choir.
Festival de los Verdiales: Beginning of August
Feria de Agosto: In honor of San Roque y San Sebastián
Mayo: Romería de San Isidro Labrador